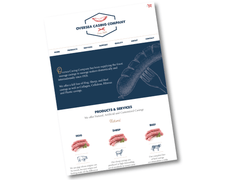 Oversea Casing is excited to share with you the official launch of our new e-commerce site. You can now buy our premium sausage casings directly from the manufacturer at your convenience.
Our goal at Oversea Casing is to provide customers with premium sausage casings that elevate their final products.
Over the last year, we have strived to create a platform that gives you access to our high-quality casings while also giving you real-time visibility to every step of the order process. We wanted to make this a simple experience, so that our customers can go online, place a casing order, and know that it will be received quickly. Our new platform saves time for your business by offering you consistent product options, 24x7, with fast deliveries. You will be able to manage your orders and subscriptions without having to worry about getting ahold of someone during business hours.
Through the use of innovative new packaging and years of industry experience, our team has focused on sourcing top-quality casings, and delivering a superior user experience that we are happy to share with you today.
We are grateful for our partner customers who offered us insights, beta tested, and continue to support us.
This is just the beginning of our journey, and we have lots of exciting ideas for the future. We are always happy to hear from you, and if you would like to reach out to us, please feel free to contact us directly at ecomm@overseacasing.com.