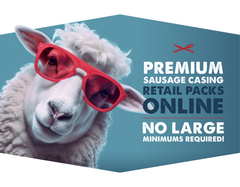 HOG CASING RETAIL BAG

Hog casing bags sold in cases containing 20 bags

SHEEP CASING RETAIL BAG

Sheep casing bags sold in cases containing 24 bags
We are thrilled to announce that you can now order our premium hog and sheep retail sausage casing packs directly from our online shop! 
 
Oversea Casing is committed to exceeding the highest industry standards. The result is a product that is second to none in terms of quality, taste, and aroma. We understand the importance of consistency in the meat processing industry. Our casings are tightly calibrated to ensure uniformity, making them the ideal choice for producing hot dogs, bratwursts, and other sausages with precision and ease.
 
At Oversea Casing, we spare no effort in delivering the best natural casings possible. Our commitment to food safety and quality is reflected in the implementation of a HACCP-based system. We continually strive for improvement and effectiveness in our food safety and quality plans.
 
With no large minimums, you can optimize your inventory management and reduce waste, making our natural casings a cost-effective choice for your business.
 
Visit our online store today to explore these fantastic new additions and get ready to embark on a flavorful journey like never before.

Thank you for choosing Oversea Casing as your trusted source of premium natural casings!